CIVS research provides new ways to solve problems! Advanced simulation and visualization technologies have proven their value in solving problems, reducing cost, and saving time for: troubleshooting, optimization, designing, training, education, and scaling up new concepts.
---
Key Areas across the Value Chain
Workplace Safety
Energy efficiency
Operational efficiency
Reliability and maintenance
Workforce Development
Environmental impacts
Raw materials
Smart Manufacturing
Decarbonization
Employ Simulation, Visualization, and Smart Manufacturing Technologies
Advanced simulation & visualization technologies have proven to be invaluable in solving problems, reducing cost and saving time for:
Troubleshooting
Optimizing
Designing
Scaling-up new concepts
Training
Education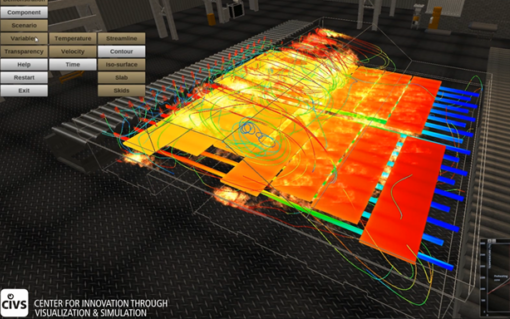 The Benefits of Simulation
Design
Product designs and industrial processes can be numerically modeled before they are physically created to show flow patterns, chemical reactions, heat transfer, fatigue/stress and to predict mechanical failure or expected lifetime.
Optimization
Designs and processes can be updated to increase productivity, lower environmental impact, reduce energy usage, and improve quality.
Troubleshooting
Issues can be identified and corrected before or after implementation to reduce failures, mitigate flow or wear problems and avoid unnecessary downtime.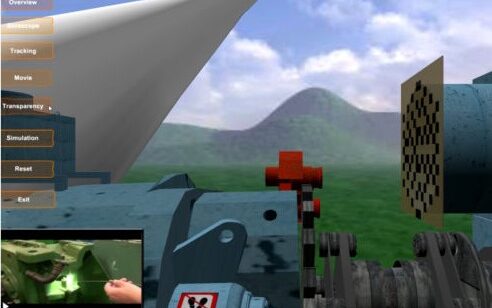 The Benefits of Visualization
Training
VR can be used in an easy-to-understand system for virtual training in environments that might normally be physically inaccessible or impractical to recreate.
Interactive simulators provide lifelike, engaging environments where workers can be guided through work tasks and virtually experience the consequences of both safe and unsafe workplace actions.
Virtual Design and Virtual Learning can be applied separately or together in seemingly unlimited fields.
Project Showcase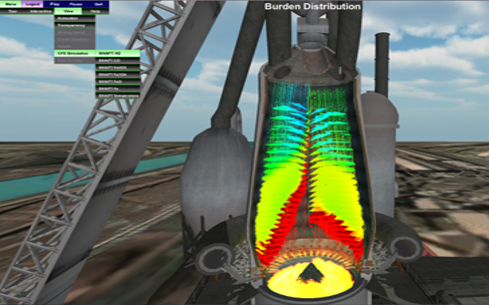 Blast Furnace
Researchers and students at CIVS have worked together with many industry collaborators to create a comprehensive blast furnace package combining numerical simulations of various complex processes with a virtual reality blast furnace system, including the 3D Interactive Blast Furnace for Training. The comprehensive package includes typical operation processes such as the charging process, burden descending and gas distribution, coke and coal combustion, bottom hearth inner profile, etc. By converting and combining the numerical data to a Virtual Reality environment, the development of this blast furnace package allows researchers, plant engineers, operators, and other personnel to bring their experiences directly into the design and optimization process. Integrated Virtual Blast Furnace (IVBF) project supported by the Department of Energy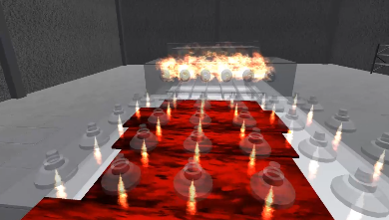 Reheat Furnace
The research project, "Application of High-Performance Computing (HPC) to Optimize Reheat Furnace Efficiency in Steel Manufacturing," will focus on improving steel reheat furnace efficiency by simulating furnace and process phenomena and developing databases of criteria for optimized furnace operation.

Electric Arc Furnace
Research on the Electric Arc Furnace is ongoing at CIVS, funded by Steel Manufacturing Simulation and Visualization Consortium (SMSVC) members with the aim of providing detailed fundamental understanding and investigation of arc melting using numerical models. The results of these research studies will contribute materially to the field of electric arc furnace (EAF) steelmaking.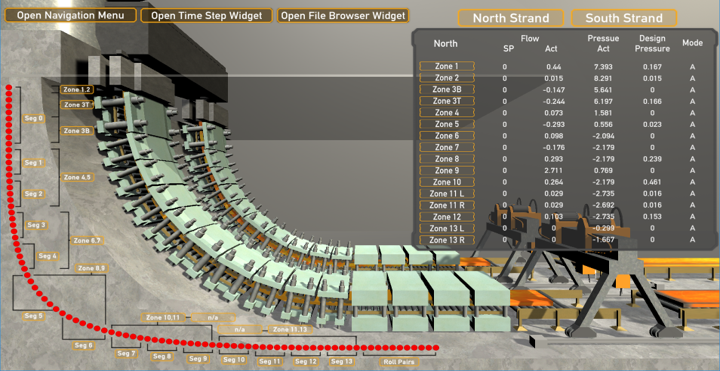 Digital Twin
Digital twin solutions will play a very active role in smart manufacturing. The Center for Innovation Through Visualization and Simulation (CIVS) at Purdue University Northwest (PNW) has partnered with ArcelorMittal and Cleveland-Cliffs to develop a 3-D digital twin prototype for a steel mill. It is anticipated that the continuous caster digital twin can be used offline and online to track casting parameters related to slab quality, as well as equipment, sensor, and modeling parameters related to machine conditions. It can also be used for the virtual training of operators and engineers.
---
Priority Projects
Virtual Simulation and Visualization Training: Safety, Operations, and Maintenance
Optimization of Steel Mill Energy Efficiency
Direct-Reduction Ironmaking Process Optimization
Low-Carbon and Alternative Fuel Injection for Blast Furnaces
Improvement of Control Strategies for Run Out Table
Optimized Raw Material Handling Design and Practices
Hydrogen-fired Reheating Furnace Operation for CO2 Emissions Reduction
Zero By-product Fuel Flare
Reduce Energy Loss Between Core Processes
Optimize the Material Flow through a Constrained Facility
Model Steel Cleanliness Practices at LTS Caster
Early Intervention Maintenance
Expert System for Integration of Scheduling, Production, and Materials Flow
EAF Raw Material Charge Optimization for Reduced Cost and Higher Productivity, including Scrap and HBI
Richer Integration of Sensors and Data with Process Control Systems for Production Planning
Simulation and Optimization of Alternative Ironmaking Processes
Improving Steel Industry's Image and Attracting/Retaining Workforce
Hot Rolling Simulation of Advanced High-Strength Steels
Virtual Training to Improve Workplace Safety and Bridge the Skills Gap
Interactive Student-Steel Industry Programs and Tools
Partner With Us
With funding support provided by a major AMTech grant from the U.S. Department of Commerce, National Institute of Standards and Technology (NIST), Purdue University Northwest, and the CIVS in 2014 spearheaded the launch of a novel, industry-led association of steel manufacturers and stakeholders, now firmly established as the Steel Manufacturing Simulation and Visualization Consortium, or SMSVC.
Do you have any ideas on how simulation and visualization can help the community? Are you curious to find out about the current projects CIVS is involved with?
Email [email protected] to provide suggestions or learn more about the Center for Innovation through Visualization and Simulation and how we impact the community.